In 2016 I took part in the digital economy crucible. Before taking part, I wasn't entirely sure that my research was relevant but I saw it as an opportunity to develop and learn new skills. I can honestly say that the experience has really helped me develop as a researcher and expanded my horizons in terms of inter-disciplinary. There were three skills labs: one in Swansea on 'Insight', one in York on 'Collaboration' and the last one in London on 'Impact'. Participants came from every part of the UK and covered a wide-range of STEM, social science and Arts & Humanities subjects. It was a really diverse group.
Skills Lab 1: Insight
At the first skills lab in Swansea, we had to present our research in three minutes to the other 'Cruciblists' and to a number of CHERISH-DE industry partners. It was a challenge presenting to non-specialists in the area. I think I got better as the weekend went on and I discussed my research with more and more people. The lab was facilitated by the lovely Vivienne Parry, (yes from Tomorrow's World!). It was great to meet a fellow Vivienne who spells her name 'correctly'!. Seriously though, she gave great advice on presenting yourself to the media and in general and gave me some names of contacts that I could pursue for future research on the autism project I'm working on with Darren Edwards (Swansea). There were talks from a number of people on the media and insight theme, including Leo Kelion from the BBC and Geoff White from Channel 4. It really made me think about how my research might be relevant to the wider world and how to best communicate that. Of particular, more short term-term, interest was the talk by Claire Tansley from the EPSRC. Over dinner, we had a lovely conversation about how my research might be relevant to the EPSRC, which is something I had not thought about before but sparks lots of ideas for the development of my aptitude work. At the end of the skills lab, I chatted to Rob Wortham (Bath) about his work with robots and at first I couldn't see any way that my linguistic research would be relevant but it turned out he wants his robots to 'mutter' and so a research idea was born! We developed this at the second skills lab in York and are going to apply for some funding.
Skills Lab 2: Collaboration
The second skills lab looked at Collaboration and was facilitated by Janet Wilkinson, who runs a great website called 'entreprenurial knickers' with Sara Shinton (London Skills Lab). We had a number of talks on research funding and we each had to write a draft proposal. I used my BA/Leverhulme Small Grant application and I really wish I'd had some of that feedback before I'd submitted it! However, the sessions gave me a lot to think about for my next external grant application. Harold Thimbleby (Swansea) gave some great advice about the reality of research grants but for me, one of the main messages was not to get discouraged and to keep applying for grants. I am now going to actively look for more opportunities outside of the traditional AHRC, ESRC, BA/Leverhulme funders for linguistics. This led directly to our 'homework', which was to form a group of 4-5 people and come up with a research idea to pitch at the next skills lab one month later.
Skills Lab 3: Impact
The final skills lab took place in London and was focussed on impact. The lab was facilitated by the extremely helplful Sara Shinton, who gave me lots of useful dvice about my online presence and I've updated this site (still in progress) and been more active on twitter as a result. On the first day, there were a number of talks including by Alisdair Mackenzie (UK Parliament outreach) and Sarah Bunn (Parliamentary Office of Science and Technology) that really opened my eyes to the opportunities available. As part of our 'homework' from the second skills lab, I joined a group working with some Swansea colleagues I'd met as part of the Crucible: Lella Nouri-Bennett (Criminology), Emma Slade (Management) and Jon Jones (Computer Science). We worked on our pitch a lot beforehand and finalised the presentation during the second day of the skills lab. Our idea was to use corpus linguistic techniques (my part) to train a machine learning tool (Jon's part) to detect the scope of the Far Right's (Lella's part) use of social media (Emma's part). It is a really good idea and brings together four completely disparate disciplines. Before taking part in the Crucible, I would never have had the opportunity to work with such an enthusiastic group from such a wide range of disciplines at Swansea never mind meet all the rest of the people on the Crucible and the presenters. Many pictures were taken and tweeted by CHERISH-DE (@CherishDE1) and me (@RogersVivienne) as well as the other participants. Our pitch was awarded a place at the British Science Festival Family weekend to be held in Swansea on 10th-11th September. I'm really looking forward to taking part although for the festival we are mainly focusing on the machine learning part. We are also working on applying for funding as we've got a number of external collaborators interested – I don't want to say too much just now so watch this space! In the meantime, here is a picture of the four of us preparing our pitch and then making it and looking rather nervous (well me anyway).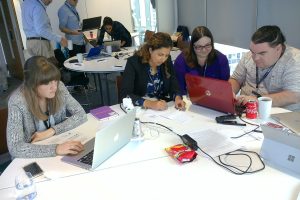 Prepping: (l-r Emma, Lella, me and Jon)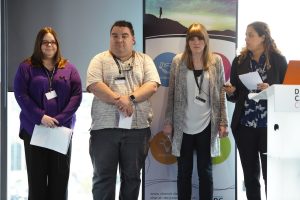 Pitching: (l-r: me, Jon, Emma and Lella)
Overall, I found the Crucible experience really rewarding and it has helped develop my research with several specific projects but more in terms of opening my eyes to engagement on a much broader scale. I would encourage other early-career researchers to apply for the Digital Economy Crucible.